Mt Dora Florida Realtor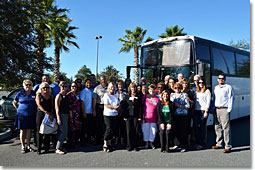 Phil and Judy Kelley are full time Mt Dora Florida Realtors specializing in Central Florida lakefront, estate, luxury, retirement and investment real estate. They are members of the ERA Grizzard Real Estate Team in Mount Dora Florida. Their Mount Dora office is located in the downtown historic section at 600 N. Donnelly Street. ERA Grizzard Real Estate is the largest Real Estate firm in Lake County with over 140 agents.
About Judy
Judy is a native Floridian born in Coral Gables Florida. While attending high school in Miami, Judy met Phil two weeks before her 16th birthday. Judy was always a straight "A" student and a member of National Honor Society. Her first career was in banking where she started as a teller and eventually advanced to the position of Assistant Vice President and Bank Security Officer. In 1979, she left banking to take a position in her husband Phil's growing computer services company. As the customer support and training manager, Judy helped Phil and his software team design and install custom business computer systems throughout the US and Caribbean. In 2000, she retired from the computer industry and began working on her dream of owning a business of her own. Judy obtained her real estate license in 2001 and has been a multimillion dollar producer every year since she entered the business. She has won numerous prestigious awards and was a member of the Coldwell Banker President's Circle awarded to 7% of Coldwell Banker Agents Worldwide. Judy is a detail crusader and a people person who enjoys her career as one of Lake County Florida's top Real Estate agents.
About Phil
Phil also grew up in Miami and along with Judy graduated from High School in 1965. Phil briefly attended college and ROTC at the University of Miami. In 1966, Phil took a position with the Burroughs Corporation as a customer support representative. The Burroughs Corporation was a major developer and manufacturer of automated accounting equipment and an innovator in the early years of the computer industry.
In 1970, Phil left Burroughs to form Accounting Machines, Inc. which was later renamed AMI Computer Services. By the early eighties, Phil's company had sold over 700 business accounting systems and became one of the first independent computer dealers in the United States. As the computer industry grew, his company began developing custom computer software applications. Throughout the eighties and nineties, his company expanded it's products and services with numerous clients throughout the Southeast and Caribbean. Phil is a former President of AMDA, the Associated Minicomputer Dealers of America and was instrumental in defining numerous nationally marketed wholesale distribution software packages. In 1996, Phil and Judy moved to Eustis Florida and began the process of turning the business over to their son. By 2000, the transition was complete and Phil and Judy retired from the computer business to work full time in Real Estate.
Phil is also a Realtor and the developer of the team's websites and marketing materials. Phil is a licensed Captain with over 45 years experience on Florida waters. As a lifelong Florida fisherman, Phil has intimate knowledge of nearly every body of water in the State. He is especially knowledgeable on matters pertaining to the Harris Chain and stays current on the many ongoing restoration efforts.
Phil and Judy have one son, Phil Jr. and three grandsons. Phil Jr. is President and CEO of South Florida based AMI Technologies, formed from the business founded by his father in 1970. Phil and Judy are both Elders in the First Presbyterian Church of Eustis and active in church and community affairs.
Phil and Judy were teenage sweethearts and in 2015 they celebrated their 50th wedding anniversary. They have worked together side by side with love and mutual respect since 1978. They are each other's most enthusiastic cheerleaders. In today's world of short attention spans and "get the deal done at any cost" sales experiences, they offer a unique breed of service and a level of professionalism that is hard to find and even harder to duplicate.