Mount Dora Florida Real Estate
"Real Florida Real Close"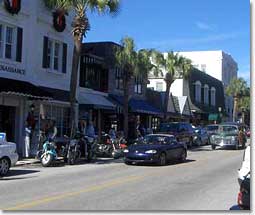 Mount Dora, located half way between the Cities of Orlando and Ocala, sits almost in the direct center of the State of Florida. Mount Dora and the Golden Triangle are close enough to Orlando for easy access to all the amenities of the big city, but far from city traffic and the hustle bustle lifestyle.
The City of Mount Dora has won numerous awards and is one of Lake County Florida's most popular tourists attractions. Numerous national magazines have named Mount Dora one of the "Best places in America to Retire". Recently, Mount Dora was named one of the 20 best towns to visit by Smithsonian Magazine.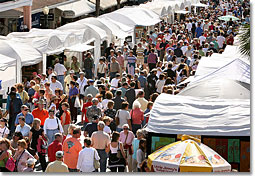 According to the US Census Bureau, Mount Dora has a current population of 12,534. The City, incorporated in 1910, covers a total of 8.02 square miles. Mount Dora is also known as the "Festival City". The City hosts 10 major festivals a year, including the nationally acclaimed Mount Dora Arts Festival each February, The Craft's Festival, Bicycle Festival, "Blue's 'n' Groove" music festival and numerous weekend classic car and boat shows. In addition, Mount Dora has some of the best antique shopping in the South. Nearby Renninger's Antique Center has many antique shops and a popular Extravaganza that draws vendors and shoppers from all over country. Uncle Al's Time Capsule on 4th Street is filled with Hollywood memories and collectibles. Other antique shops in the historic section of Mount Dora sell everything from antique furniture to jewelry.
Mount Dora's sister City is Forres, Scotland. Each November Mount Dora Celebrates the partnership at its annual Night for the Scot fundraiser and Scottish Highland Games. The Mount Dora area also hosts numerous Civil War enactments and Renaissance Fairs.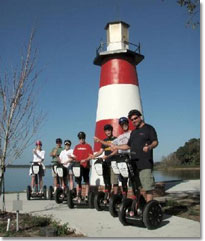 An interesting mode of transportation in Down Town Mount Dora is the Segway. Riders adjusting their direction on the two wheeled devices have become the latest rage with sightseers.
Mount Dora has a strong commitment to preserving history and a civic pride that has contributed to Mount Dora's uniqueness as a Florida City. Mount Dora's famous lighthouse draws a visit from tourists along with quaint side walk restaurants, festivals, art galleries, boutiques and antique shops. There's even a Doggie Bakery to indulge the owners of four legged friends.
Mount Dora and the Golden triangle are a wonderful place to live. Only three miles apart, each small town is uniquely different, but there is a magnetism that draws them together. This is "Old Florida" with picturesque hills, huge oak trees draped in Spanish moss and natural lakes wherever you look. Many of our residents are retirees from the Midwest and are exceptionally friendly and courteous. This is a place where people wave and all enjoy the abundant nature of our area.
If you would like more information about living in Mount Dora or the Golden Triangle, please contact us.